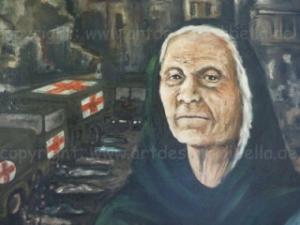 Eight years after the death of the artist Carmelo Di Bella, painter and sculptor, offers the first time Di Bella Art Gallery Original works by the artist for purchase.

Some of these rarities are presented. Especially in the works from the late 70s to late 80s - Tue Bellas most creative, most innovative and most diverse artistic time - is the wide range of his abilities recognized. But also about early and late works, partly unfinished, art collectors can acquire informations in the gallery. All original works by Carmelo Di Bella get a unique gallery-logo and a certificate of authenticity. All paintings and drawings come from private collections.

Who high quality prints (canvas prints, art prints, artist cards) prefers, has the ability to buy them there as a replica. Here also motifs of art works are offered, which are originally not for sale or already sold. In addition, a large selection of Digital Art Pictures and FotoArt available. (Item extrArt in the Art Gallery...